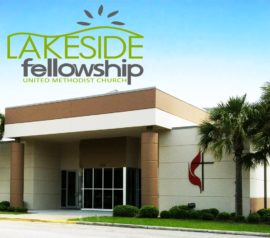 Lakeside is a young church, started in 1999 in the Lake Mary/Sanford area.  On June 12, 1999 Pastor Bob Martin, Patty Martin, and family were appointed by Bishop Timothy Whitaker to start a brand new church.  The 10 acre plot of land was provided by apportionments United Methodists in Florida pay each year.  Lakeside is the fruit of many years of faithful giving by God's people.
The church began its public worship on October 10, 1999 in the United Artists Theatre near Seminole Town Center Mall.  A leadership team and a staff team developed as people gathered together, preparing to be birthed as a new church.  Door to door outreach, social gatherings, and outreach projects helped get the good news about Jesus out into the community and helped people become aware of the new church.  From the beginning, community outreach and service were central to the core of Lakeside's mission.  In May 2001, Lakeside received the Seminole County Counselor Association's Humanitarians of the Year Award.
July 29, 2001 Lakeside celebrated Charter Sunday as a chartered United Methodist Church, receiving 134 members.  2002 continued to focus on outreach and ministry, but added a new focus, Lakeside's first building.  By October of that same year, the first worship service was held in the new building.  In 2003 and 2004, Lakeside experienced seasons of growth and change as we continued to mature as God's people.  In 2006, Pastor Bob Martin was appointed to another church, and Pastor Cameron Lashbrook was appointed to lead Lakeside Fellowship United Methodist Church.
In July of 2015, Lakeside's first building was taken through eminent domain by the State of Florida. At that time, we embarked on a mission to find a new property location and build a new church and school. We are blessed to be in our new facility on N. Henderson Lane and be a part of God's larger plan. Our mission has become "Welcoming, Growing, and Serving through Christ's love" because we believe that following Jesus means that we are called to welcome new people to Jesus, grow together in faith, and serve Christ's love in our communities. We are 18 years old now, and maturing in our faith while on our mission.  We are excited about what God has planned for us in the years ahead, and look forward to seeing how God calls you to join us in God's unfolding story!